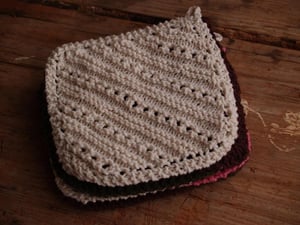 $

4.00
Hand knit from 100% Australian cotton, this 7' x 7' eyelet/ridge washcloth is durable, strong & absorbent, yet very soft.
It comes in a variety of colours. You can email me at : : d.downs@bigpond.com for more info of colour choices...
This product is sturdy enough for your kitchen messes, yet soft enough for washing your face.
Lasting a very long time this cloth is a great earth friendly replacement for paper towels or disposable kitchen cloths. Great for use all over the home.
This cloth is machine washable in all kinds of temperatures...